Journal Categories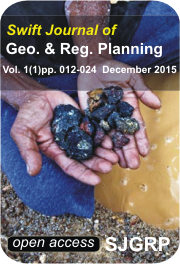 Swift Journal of Geography and Regional Planning (SJGRP)
December 2015 Vol. 1(2), pp. 012-024
Copyright © 2015 Swift Journals
Original Research Paper
An Assessment of Environmental Quality; a Case of the Jos Plateau Tin-Mining Region (JPTMR)
1Jiriko, G.K. 2Wapwera, S.D 3Mallo, D.M. & 4Rikko, L.S.
1, 2 & 4 Department Of Urban And Regional Planning, Faculty Of Environmental Sciences University Of Jos. 3Department Of Estate Management, Faculty Of Environmental Sciences, University Of Jos.

*Corresponding Author E-mail: wapwera@gmail.com
Accepted 7 December, 2015
Abstract
The presence of heavy metals and radioactive substances in most mining settlements has posed a great challenge with varying dimensions especially environmental quality. Hence, this paper seeks to assess the environmental quality of the mining regions by identifying their sanitary practices and the level of satisfaction of the inhabitants of the region. Using a case study approach ten settlements were considered. The secondary data used were obtained from reports about the previous Tin-mining activities within the region, whilst the primary data were from the questionnaire administered 300 to the inhabitants and observation of the regions concerning sanitary practices. The sampling technique adopted for the region stratified random sampling according to the extent of damage to the environment inhabited. The secondary data was analysis using thematic and content analysis while the primary data from the questionnaire was analysed using analysis of variance. The results revealed that the socioeconomic characteristic of the inhabitants, structure and aesthetics of the environment. Sewage disposal very poor, waste/refuse collected are disposed into Tin-mining ponds, leading to pollution as drainages are not available, and the available ones are not properly cleared at regular intervals. These serve as breeding grounds for mosquitoes, and other insects. Based on the results obtained recommendations were made concerning the state of the environment considering the pre-existing prevailing conditions inherent in the region to help the academia, practitioners and policy makers.
Keywords:Assessment, Environmental Quality, Jos Plateau Tin-Mining Region
Read
[Full Text - PDF]
How To Cite This Article:
Jiriko, G.K. Wapwera, S.D Mallo, D.M. & Rikko, L.S.. An Assessment of Environmental Quality; a Case. Swift Journal of Geography and Regional Planning 1(2), pp. 012-024.