Journal Categories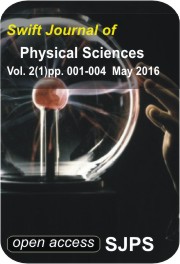 Swift Journal of Physical Sciences (SJPS)
May 2016 Vol. 2(1), pp. 001-004
Copyright © 2016 Swift Journals
Original Research Paper
Structural Properties of Zno Thin Films Prepared Using Different
Alaa J. Ghazai1&2, Emad A, Salman1 and Zahraa H.1
1Physics Dept. Science College, Thi Qar university, Iraq 2PPhysics Dept. Science College, Al-Nahrain University, Iraq

*Corresponding Author E-mail: alaaphys74@gmail.com
Accepted 29th March, 2016
Abstract
In this work, zinc oxide (ZnO) thin film has been fabricated using sol-gel and thermal spray methods on glass substrate. To fabricate a ZnO solution which dipped on substrate and spin coating treatment, zinc acetate and triethanolamine (TEA) with NaOH were used as solvents and stabilizer materials, respectively. Structural properties of ZnO films have been studied, using X-ray diffraction (XRD) and scanning electron microscopy (SEM). XRD results show that the prepared films have a polycrystalline in nature. The referred orientation ZnO (002) has the lower grain size to be 9.9 and 8.3 nm for zinc acetate, triethanolamine (TEA) with NaOH of concentration ratio of 1:4 using spin coating and thermal spray respectively, which calculated using Debye Scherer's formula. SEM images are in agreement with the XRD results that films with zinc acetate and triethanolamine (TEA) with NaOH using spin coating have a rough surface, that make ZnO thin film a promising material to solar cells and optoelectronic devices in UV range.
Keywords: optoelectronic devices, ZnO, triethanolamine (TEA) and NaOH, menoethanolamine (MEA)
Read
[Full Text - PDF]
How To Cite This Article:
Alaa J. Ghazai, Emad A, Salman and Zahraa H. Structural Properties of Zno Thin Films Prepared Using Different Techniques. Swift Journal of Physical Sciences 2(2), pp. 001-004.