Journal Categories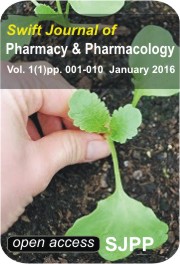 Swift Journal of Pharmacy and Pharmacology (SJPP)
January 2016 Vol. 1(1), pp. 001-010
Copyright © 2016 Swift Journals
Original Research Paper
Mineral Nutritional Values of Radish Leaves, as Influenced by Varying Irrigation Water Types
Aveen A. Ibrahim
Chemistry Department, Science College, Zakho University, Dohuk, Iraq

*Corresponding Author E-mail: caser.abdel@yahoo.com
Accepted 15th January, 2016
Abstract
Three radish cultivars namely Ufasic, Gigante, and Saxa2 grown under plastic house, irrigated by familiar Life drinking water, well and Dohuk river wastewater. Therefore, 9 treatments were arranged in Split within Randomized Complete Block Design. The obtained results revealed that Well watered fresh leaf gave the highest weight (24.172g), leaf dry weight (3.1258g), Ca content of dry leaves (3342.4μg.g-1) and Ca content of edible tissue (438.6 μg.g-1). Followed by wastewater, which showed the highest Zn content of dry leaves (72.675 μg.g-1), and Zn content in edible tissue (9.732 μg.g-1). Ufasic was the most effective cultivar in all detected traits, followed by Gigante and the worst was Saxa2. Gigante radish cultivar irrigated by well water appeared to be the most effective treatment, since it manifested the highest values in terms of Ca contents of both dry leaves (3370μg.g-1) and edible leaf tissue (438.6μg.g-1).
Keywords:Mineral, Nutritional value, Ca, Ni, Zn, Radish, Water types, waste water
Read
[Full Text - PDF]
How To Cite This Article:
Aveen A. Ibrahim. Mineral Nutritional Values of Radish Leaves, as Influenced by Varying Irrigation Water Types. Swift Journal of Pharmacy and Pharmacology 1(1), pp. 001-010.