Journal Categories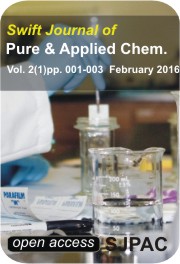 Swift Journal of Pure and Applied Chemistry (SJPAC)
February 2016 Vol. 2(1), pp. 001-003
Copyright © 2016 Swift Journals
Original Research Paper
Synthesis of Some New Tetrazole and 1,3-Thiazolidin-4-One Derived from Schiff Base
Huda Ahmed Basheer, Aveen Akram Ibrahim, Maysoon Salh Ahmed
Chemistry Department / Faculty of Science / University of Zakho Kurdistan region / Iraq

*Corresponding Author E-mail: caser.abdel@yahoo.com
Accepted 25th January, 2016
Abstract
A series of heterocyclic compounds tetrazole (3a-d) and 1,3-thiazolidin-4-one (4a-d) derivatives were synthesized by the reaction of Schiff base derivative (2a-d) with sodium azide, 2-mercptoactic acid respectively. The IR and 1HNMR spectral data of the synthesized compounds were also discussed.
Keywords: compounds, sodium azide, Schiff base.
Read
[Full Text - PDF]
How To Cite This Article:
Huda Ahmed Basheer, Aveen Akram Ibrahim, Maysoon Salh Ahmed. Synthesis of Some New Tetrazole and 1,3-Thiazolidin-4-One Derived from Schiff Base. Swift Journal of Pure and Applied Chemistry 2(1), pp. 001-003.