Journal Categories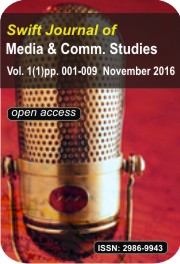 Swift Journal of Media and Communication Studies (SJMCS)
November 2016 Vol. 1(1), pp. 001-009
ISSN: 2986-9943
Copyright © 2016 Swift Journals
Original Research Paper
Budgeting as the Backbone of Effective Media Relations Planning and Strategy
Dr. Aborisade Philip Olubunmi1, Adu Agatha Oluwafunmilayo2
1Department of Media and Communication, Afe Babalola University, Ado Ekiti,
2Mass Communication Department, Afe Babalola University, Ado Ekiti, Nigeria
*Corresponding Author E-mail:
aborisade@hotmail.com, agathaoluwafunmi@gmail.com
Accepted 8th November, 2016
Abstract
Budgeting is seen by Media Relations Practitioners as the backbone of effective media relations. It is a process of creating a strategic plan and not the exact budget in itself and media relations practitioners must make a good strategic plan which must constantly be updated through consistent research on the media in order to be able to create a realistic and successful Media Relations Planning. This paper presents the process of formulating realistic public relations to successfully prosecute a successful public relations plan. Employing contextual analysis and relying largely on secondary data, the paper explores the concept of budgeting and media relations as well as the importance of media relations branch to public relations whose success depend largely on proper budgeting. The article is anchored in the system to explain the relevance of media relations in the attainment of the overall goals of corporate organizations. The paper concludes that budgeting is very important in the execution of any media relations planning or strategy because it helps in determining the potential and most likely the costs of all resources needed in the media planning process before the actual execution.
Keywords: Budgeting, Media Relations, Media Planning, Media Relations Budgeting Costing.
Read
[Full Text - PDF]
How To Cite This Article:
Dr. Aborisade Philip Olubunmi, Adu Agatha Oluwafunmilayo. Budgeting as the Backbone of Effective Media Relations Planning and Strategy. Swift Journal of Media and Communication Studies 1(1), pp. 001-009.