Journal Categories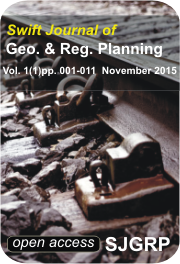 Swift Journal of Geography and Regional Planning (SJGRP)
November 2015 Vol. 1(1), pp. 001-011
Copyright © 2015 Swift Journals
Original Research Paper
Analysis of Rail-Road Network Connectivity and Accessibility with Selected Nigerian Seaports
*SOMUYIWA Adebambo O. (Ph.D, FCILT, MCIS), DOSUNMU Victor A. (Ph.D) and ADEPOJU Olusegun O, (M.Tech)
Department of Transport Management, Faculty management Sciences Ladoke Akintola University of Technology, P.M.B. 4000, Ogbomoso, Oyo State.

*Corresponding Author E-mail: iseoluwa89@yahoo.com
Accepted 6 November, 2015
Abstract
This study analysed railroad network connectivity and accessibility with selected Nigerian seaports. Specifically, the study analysed the level of connectivity and accessibility of railroad network with the Inland Container Depots (ICDs) and Container Freight Stations (CFSs). Secondary data with the aid of ArcGIS, (2012) software (a geographical information system working with maps) was analysed using Connectivity Index and Shimbel Analysis to determine the level of connectivity and accessibility of Nigerian road-rail network with the proposed ICDs and CFSs. The study revealed that rail network was only pronounced in two ports (Lagos and Port Harcourt ports) in Nigeria. This research work concluded that rail transport is more viable to haul goods from Nigerian ports to various ICDs and CFSs. Results from analysis of connectivity and accessibility of the railroad network emphasized that road network is more connected than rail, but rail network is more accessible to ICDs and CFSs. Therefore, it is suggested that road transport should complement rail transport by transporting from and to lesser distance(s) where rail transport has discharged so as to enhance intermodalism especially in shipping logistics operations.
Keywords: Accessibility, Connectivity, Network, Seaport, Rail-Road
Read
[Full Text - PDF]
How To Cite This Article:
SOMUYIWA Adebambo O. (Ph.D, FCILT, MCIS), DOSUNMU Victor A. (Ph.D) and ADEPOJU Olusegun O, (M.Tech). Analysis of Rail-Road Network Connectivity and Accessibility with Selected Nigerian Seaports. Swift Journal of Geography and Regional Planning 1(1), pp. 001-011.