Journal Categories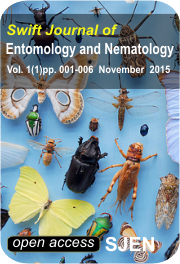 Swift Journal of Entomology and Nematology(SJEN)
November 2015 Vol. 1(1), pp. 001-006
Copyright © 2015 Swift Journals
Original Research Paper
Non-biting Flies: Occurrence, Constance and Substrate Preferences in Ile-Ife, Nigeria
T. A (B.) Ogunniyi, J. S. Olajide and O. J. Oyelade
Department of Medical Microbiology and Parasitology Natural History Museum, Obafemi Awolowo University, Ile-Ife, Nigeria

*Corresponding Author E-mail: jsolajide@yahoo.com
Accepted 02 November, 2015
Abstract
Non-biting flies are of ecological, preventive medicines and sanitary importance because, in most cases, they serve as purveyors of human and animal pathogenic agents, inducers of myiasis and degrader of organic matters. This study was conducted to ascertain the fauna of house flies, blow flies, flesh flies and their allies in Ile-Ife. Using an insect sweep net, flies were caught from abattoirs, fresh food markets, garbage piles and public latrines between December 2014 and May 2015. The caught flies were identified in the laboratories in the department of Medical Microbiology and Parasitology and the Museum of Natural History of Obafemi Awolowo University. One thousand and eight-three (1083) flies were caught. These belong to four dipteran families of Calliphoridae, Muscidae, Sarcophagidae and Stratiomyidae. Garbage piles had the highest number of flies. M. domestica is reported as accessory species, F. scalaris and C. vicina as accidental species. The number of flies caught from each collection site though statistically insignificant, points to the fact that the sites always had substrates supporting the lives of these species.
Keywords: flies, pathogen, substrate, contamination, constance, filth
Read
[Full Text - PDF]
How To Cite This Article:
T. A (B.) Ogunniyi, J. S. Olajide and O. J. Oyelade. Non-biting Flies: Occurrence, Constance and Substrate Preferences in Ile-Ife, Nigeria. Swift Journal of Entomology and Nematology 1(1), pp. 001-006.