Journal Categories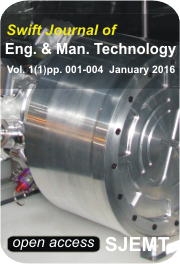 Swift Journal of Engineering and Manufacturing Technology (SJEMT)
January 2016 Vol. 1(1), pp. 001-004
Copyright © 2016 Swift Journals
Original Research Paper
The Role of Energy Storage in addressing Energy Challenges in Nigeria
B.H. Adedayo, J.S. Olayande, S. G. Zaku and A. Abdallah
Department of Energy Planning and Analysis, Energy Commission of Nigeria, Plot 701C, Central Area, P.M.B 358, Garki, FCT- Abuja, Nigeria

*Corresponding Author E-mail: zakusamaila@yahoo.com
Accepted 21st December, 2015
Abstract
Nigeria is among underdeveloped countries in the world due to persistence energy crises which has weakened the industrialization process and effort to achieve sustainable growth. The role of energy storage is still high in various aspects and there are needs to sustain energy storage to address the energy challenges in the country, most of the various utility companies do not have enough energy to meet the needs of everybody at the same time. The energy sources that can be stored are hydro power, solar power, biomass, wind and fossil fuels. The potential benefit of energy storage earmarked to increase by 40 % over the next 10 years, ranging from 584 MW in 2014 to 2080 MW in 2024. The government and non governmental agencies should promote the storage of available energy in various sectors such as manufacturing, industries, residential buildings and transportation.
Keywords:Energy Storage, Energy Efficiency, Renewable Energy, Sustainable Electricity.
Read
[Full Text - PDF]
How To Cite This Article:
B.H. Adedayo, J.S. Olayande, S. G. Zaku and A. Abdallah. The Role of Energy Storage in addressing Energy Challenges in Nigeria. Swift Journal of Engineering and Manufacturing Technology 1(1), pp. 001-004.