Journal Categories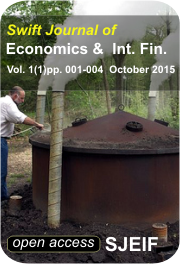 Swift Journal of Economics and International Finance (SJSEIF)
October 2015 Vol. 1(1), pp. 001-004
Copyright © 2015 Swift Journals
Original Research Paper
Towards Sustainable Charcoal Production and its Use for Energy Generation in Nigeria
S. G. Zaku, J. S. Olayande, A. Kabir, A. A.Tukur, A. Abdallah and B.H. Adedayo
Energy Commission of Nigeria, Plot 701c Central Area, P. M. B 358 Garki, FCT- Abuja, Nigeria

*Corresponding Author E-mail: zakusamaila@yahoo.com
Accepted 07 October, 2015
Abstract
Charcoal plays a significant role in the energy requirements of many developing countries. This is especially the case in Nigeria, where dependence is increasing due to growing urban populations, and limited accessibility to alternative modern fuels. Charcoal production is rural areas form of off farm secondary occupation, although this provides income for poor rural dwellers. At present, charcoal and firewood constitute the main source of fuel for cooking by over 76% of the Nigerian population. The major reasons of sustainable charcoal production are not fully understood, based on this, the paper recommends ways of improving efficient and sustainable production of charcoal in Nigeria.
Keywords: Sustainable, Charcoal, firewood, fuel wood, Pyrolysis.
Read
[Full Text - PDF]
How To Cite This Article:
S. G. Zaku, J. S. Olayande, A. Kabir, A. A.Tukur, A. Abdallah and B.H. Adedayo. Towards Sustainable Charcoal Production and its Use for Energy Generation in Nigeria. Swift Journal of Economics and International Finance 1(1), pp. 001-004.