Journal Categories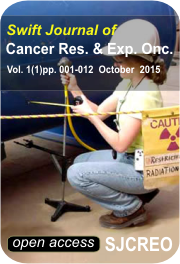 Swift Journal of Cancer and Experimental Oncology (SJCREO)
August 2015 Vol. 1(1), pp. 001-012
Copyright © 2015 Swift Journals
Original Research Paper
Radiation Accidents and their Management: Review of Therapeutic Principles of Acute Radiation Syndrome
Aya Abaza
Assistant Prof. of Safety and Prevention of Oncology in Radiation Protection Department, Nuclear and Radiological Regulatory Authority, Cairo, Egypt. PhD, M.D in Childhood Studies & Pediatric Oncology, Ain-Shams University, Cairo, Egypt.

*Corresponding Author E-mail: aya_abaza@hotmail.com
Accepted 01 September, 2015
Abstract
Fortunately, radiation accidents are of infrequent occurrences, but since they have the potential of large scale events like the nuclear accidents of Chernobyl and Fukushima, preparatory planning for the medical management of radiation accident victims is very important. Radiation accidents can result in different types of radiation exposure for which the diagnostic and therapeutic measures, as well as the outcomes, differ. The aim of this review was to provide a framework for physicians and the medical subspecialties to evaluate and manage large-scale radiation injuries. The rationale for the further evaluation of mesenchymal stem cells (MSCs) therapy was stressed to address the current unmet medical needs of acute radiation syndrome (ARS). Methods: The most important therapeutic principles with special reference to hematopoietic syndrome and cutaneous radiation syndrome are reviewed. The results: The clinical course of ARS depends on the absorbed radiation dose and its distribution. Multi-organ involvement and multi-organ-failure was taken into account. Documentation of clinical signs and symptoms (affecting the hematopoietic, gastrointestinal, cerebrovascular, and cutaneous systems) over time was essential for triage of victims, selection of therapy, and assignment of prognosis. A conclusion based on radiation dose and physiologic response was made for treatment of the hematopoietic syndrome. Psychosocial support will be required for those exposed, regardless of the dose, as well as for family and friends. For terrorist or accidental events involving exposure to radioiodine, prophylaxis against malignant disease of the thyroid was also recommended, particularly for children and adolescents. Recommendations regarding a multidisciplinary approach built on international cooperation are of the utmost importance and currently the most reasonable strategy to provide the best possible medical care for radiation accident victims. There is a strong need for internationally recognized guidelines for the treatment of severely radiation exposed patients. Further research and experimental studies are necessary to identify prognostic parameters for the estimation of irreversible damage to organs and organ systems and a deeper understanding of the pathophysiology of radiation induced multi-organ failure (MOF).
Acute radiation syndrome, Mesenchymal stem cell, Cell therapy, Hematopoietic syndrome, Gastrointestinal syndrome, Radiation injury
Read
[Full Text - PDF]
How To Cite This Article:
Aya Abaza. Radiation Accidents and their Management: Review of Therapeutic Principles of Acute Radiation Syndrome Swift Journal of Medicine and Medical Sciences 1(1), pp. 001-012.